Memory Care
Our continuum of care includes two very special neighborhoods for people with dementia. Our Broadway on Hudson neighborhood provides skilled nursing care, while our Albright-Kidd Memory Care Center is at the assisted living level of care. Both neighborhoods feature a compassionate, dementia-capable, professional staff and a full range of opportunities for engagement for residents.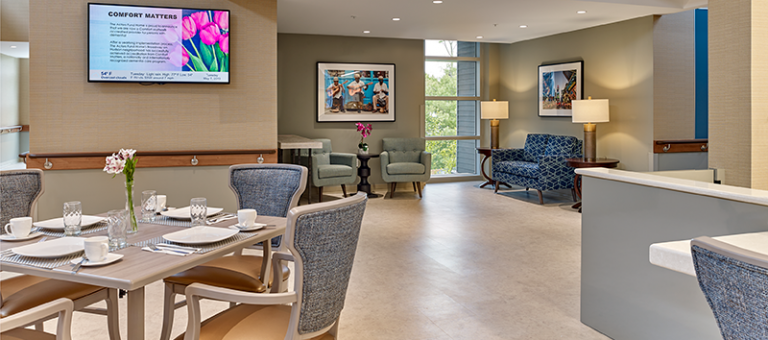 Our Broadway on Hudson (BOH) neighborhood is home to up to 30 residents with moderate to advanced staged dementia. BOH is not only certified in dementia care by the New Jersey Department of Health, but it is also certified in Comfort Matters®, which is a philosophy, care practice, and evidence-based program that improves the quality of care and quality of life for people with dementia.
Our Albright-Kidd Memory Care Center is home to 20 residents with mild to beginning-moderate stage dementia. The physical space, completed and opened in 2019, offers a bright setting where residents enjoy individualized attention that ensures their preferences and interests are honored. This neighborhood was accredited in Comfort Matters in October 2020.
Comfort Matters was developed at Beatitudes Campus in Phoenix, Arizona through more than a decade of research around person-directed health care practices and the latest science on supporting people who live with dementia, including Alzheimer's disease. The Actors Fund Home was the first facility in New Jersey to achieve this accreditation.  
Our goal is to make a difference in the lives of people living with dementia.
Referrals & Admissions
For admissions, eligibility, general inquiries or to schedule a tour, please contact:
Laura White, LSW
Director of Admissions
201.871.8882, ext. 543
lwhite@actorsfund.org